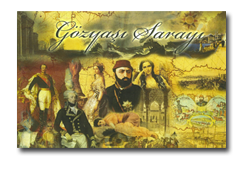 The Palace of Tears
A Feature Film
based on the acclaimed novel by
Alev Aksoy Croutier
SYNOPSIS:
In 1868, a young Frenchman, Casimir de Chateauneuf wanders into a small shop in Paris. The place is filled with novelties from the Orient. He is captivated by a portrait of a beautiful girl with the most amazing eyes, one blue and the other yellow. That night her eyes pursue Casimir in his dreams, as a question haunts him: Who is she? Thus begins Casimir's dizzying quest for the woman of his obsession.
La Poupee (meaning the doll), as the young girl is called, lives in an Ottoman harem in Istanbul. She was raised by the Sultan's beautiful French wife and grew up to be an intelligent young woman who dreams of a strange man she has never met.
Casimir finds out that the painter of the portrait has returned to the Orient, so he embarks upon a voyage to find him and learn the identity of his beloved. His journey leads him from France to Africa to the Aegean coast of the Ottoman Empire. Along the way, he rides camels across scorching deserts, is attacked by thieves and when he finally discovers the whereabouts of the painter, alas it is not to be, for a flash flood destroys the village where he lives and kill the painter. Heartbroken and distraught about the death of the only connection he has to the girl in the portrait, Casimir returns home to France.
Around the same time, the French king, Napoleon III has turned his interest to the natural resources, and the wealth in the Middle East. He ushered the construction of the Suez Canal and brokered a treaty with the Ottoman Sultan Abdulaziz for the usage of the Canal. Napoleon III decides to send his charming and ambitious wife, Eugenié to Istanbul to make sure that the Sultan complies with their treaty. Casimir accepts an invitation to join Eugenié and her entourage for the upcoming voyage to Istanbul.
There lives the woman of Casimir's dreams, cast away in a forgotten harem. But in Istanbul, in The Palace of Tears, Casimir discovers what needs to be sacrificed for his dream to become reality.
Filled with breathtaking visions – from the lavish courts of the French Empire to the opulence of the Ottoman Sultan's harem – The Palace of Tears is an epic adventure of the heart.